BE LIKE A FACTORY RIDER WITH KORAX CUSTOM MADE JERSEYS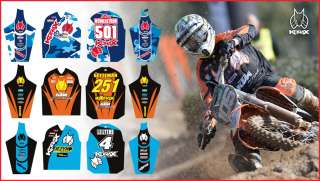 10/02/2016
If you take a look at the picture you can see some samples we already made for some motocross teams and riders using our Korax gear and how we can customize your race jersey with a sublimated process.
On a custom jersey you can print everything you want, your name, number, sponsors, your store name.
We have available the same fabrics used for our Korax jerseys including the micro-vented fabric. We can make small sizes for kids and also very big sizes till 3 XL. The custom production can be also made for small quantity.