STEPHEN RUBINI CONQUER ARCO DI TRENTO GP IN ITALY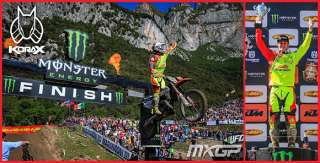 16/05/2016
Great day for Stephen Rubini at the Trentino's GP in the North of Italy the last weekend. The French Korax rider racing for team KTM Silver Action won in fact for the first time in his career a moto and also a GP of the 125 class. With a race to the attack that saw him finishing second in the Saturday round, and winner in the final round of the Sunday, Stephen clearly showed to be racing for the european title. The bad weather of the Saturday, to which followed a sunny wonderful day on Sunday, and the particular atmosphere of this track at the Dolomiti's mountains feet, have so been the scenary of this GP that has seen the ascent of Rubini in the ranking of the championship seeing him now at the second place at 21 points from the leader Jago Geerts.
On track in Arco also the riders of the European 250, with to defend the Korax colors team KTM Apex rider Michael Mantovani, and team KTM Silver Action riders Cyril Genot, Davide Cislaghi and Nicola Bertuzzi. The Belgian Genot, after getting the top ten in the first moto thanks to the ten position, in the second round did not have a good start and also crashed.. Obstacle of the qualifying overcome this time for Davide Cislaghi that also took home the first 2 points in the championship and continues in his recover after the past year injury.
Important experience instead for Nicola Bertuzzi and Michael Mantovani facing for the first time this championship where to be qualified, thinking that other strong riders did not arrived to do it, makes understand how much the level on track is high.
And now eyes pointed on Spain for the next GP!